Discover concrete ways for you and your team mates to reduce CO₂ emissions and make climate action part of your everyday life. Easy and effective habits - at home and at work.


Team building
As part of a team participants compete to save as much CO2e as possible for a designated amount of time in your organisation - perfect for team-building and rolling out internal sustainability goals.


Easy-to-do actions
The platform contains 30+ activities around the four main areas of individual emissions; Transport, Food, Consumption and Energy. Using leading aggregated climate data and LCA analysis per activity to make the learning accurate.


End Report
Ducky Challenge includes an end-report with the total CO2e saved in your organisation. Average reduction for a company equals a reduction between 20-30% of national CO2e, if every citizen lived like your employees. What the individual does, together, matters!
Wouldn't it be great if there was a tool to raise CO2 footprint awareness and build a sustainable culture, that you also could use to communicate your sustainable efforts?
That is why we have developed Ducky Challenge!
Ducky Challenge is a gamified, research based engagement platform that aims to engage employees, create awareness and build a sustainable culture within companies and organisations.
Enter a Challenge and have participants in your organisation join a tournament where they compete in teams, engaging in low emission activities. The team with the least CO2 emissions at the end of the period wins!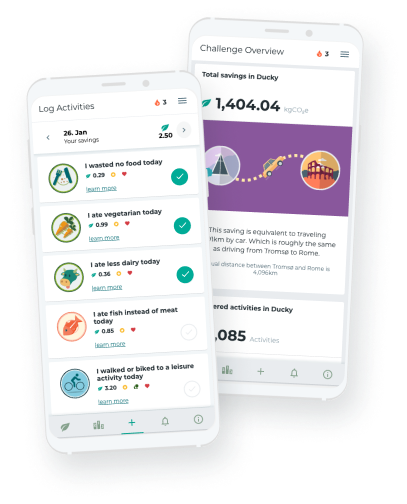 What we have going on right now.
"I believe our employees think it's both fun and useful to participate in Klimakonurransen. It made a big difference on the social environment at our workplace."
"Participation in Klimakonkurransen is about building competence and an engaged culture where we talk together about sustainability, climate, environment and what we can do."
"Using tasks from the teaching plan as an interdisciplinary plan in the subjects Norwegian, English and Science, together with the Climate Championship was absolutely essential to get such good results."
Find more answers in our Knowledge Base
Want to get Challenged?
Contact us about how you can get started today!