Increase awareness of personal impact
Use our tools to set your starting point by measuring current carbon footprint, attitudes, and knowledge about personal impact. Uncover the barriers that prevent change from happening.



Improve behavior with collective action
Work together and compete to reduce carbon emissions by improving daily activities. The benefit of many people competing to reduce CO2 easily translates into significant emission reductions for organizations.

Keep track of your improved behavior
See where you have saved the most and where more work is needed. At the end of each campaign marvel at how much good you've achieved.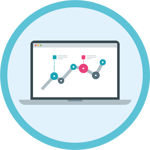 Communicate and visualize in real-time
Ducky is built around immediate feedback, and delivers concrete results that help create true hero stories. These achievements generate real engagement, and highlight how small actions can deliver huge results.