What did the students do for the climate?
The students competed against each other in teams and saved a whopping 273 471 kg CO2e in just three weeks. That's equivalent to flying 27 times around the earth.
In fact, if all Norwegians copied the top 20 classes in the challenge, the savings would be equivalent to 40% of the country's total annual carbon emissions!
Watch the movie from Skien and Orkdal high school.

How did it work?
The students logged their everyday activities and climate actions using the Ducky web-app. Each action was based on simple things they could do to reduce their carbon footprint, like walking instead of driving or eating less meat.
In total, they logged a staggering 312 175 actions, which showed just how committed the participants were.
«It was a lot of fun working on the project and I'm already looking forward to an even better championship next year,» says Marianne Haukås, of the Department for Transport and Regional Development for Telemark County.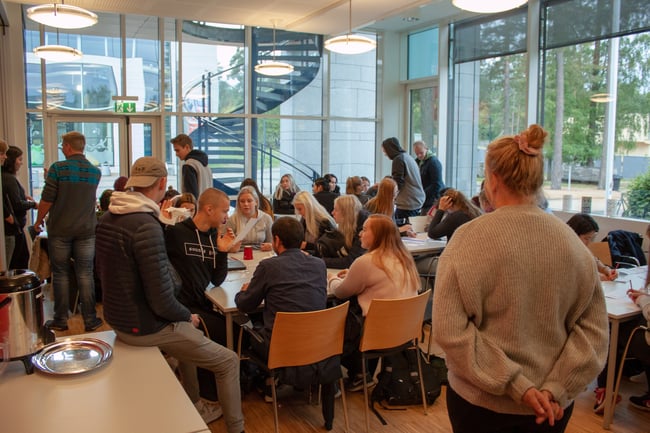 Growing success
Trøndelag was the first municipality to run the school climate championship in 2017. Inspired by the success of this first contest, the municipality ran another in 2018 which sparked even more interest from the students, teachers, principals, and politicians.
Also, Telemark, encouraged by what had been accomplished in Trøndelag with 1 600 students, decided to join in and compete against Trøndelag school for school, class for class.
This year - 2019 - Ducky is inviting all municipalities to join in and compete in Norway's very first National School Climate Championship!

We have to act now
By the time today's students turn 30, we must have reduced global carbon emissions by 45%, a task which seems almost impossible. But if 6 000 students can achieve such incredible emission reductions in just two weeks, think how powerful it would be if we all followed their example. This is when the magic happens!
Teaching by example
During the competition, students and teachers have access to an interdisciplinary teaching kit - The Knowledge Tree. The Knowledge Tree contains instruction, movies, tasks and a climate calculator to give students the crucial knowledge they need to help shape the society they will grow up in.
The combination of the climate championship and the Knowledge Tree kit gives high schools the chance to introduce valuable and meaningful climate and sustainability schooling even before the new teaching plan is introduced in Norway in 2020.
«This time Telemark was better than us in engaging both students and teachers in the championship, but we promise to come back even stronger next year!» guarantees Tommy Reinås, Leader of the Climate Council in Trøndelag municipality. «There's also a lot of work happening behind the scenes to push for a National School Climate Championship, and then you'll see us claim our place at the very top,» he says with a smile